ANCHOR LIFE WILL TAKE PART IN THE WEBINAR OF THE FINAL EVENT OF INTERREG PROJECTS RUMBLE AND REPOR ON SUSTAINABLE PORTS
Maggio 26, 2021
JUNE 22-23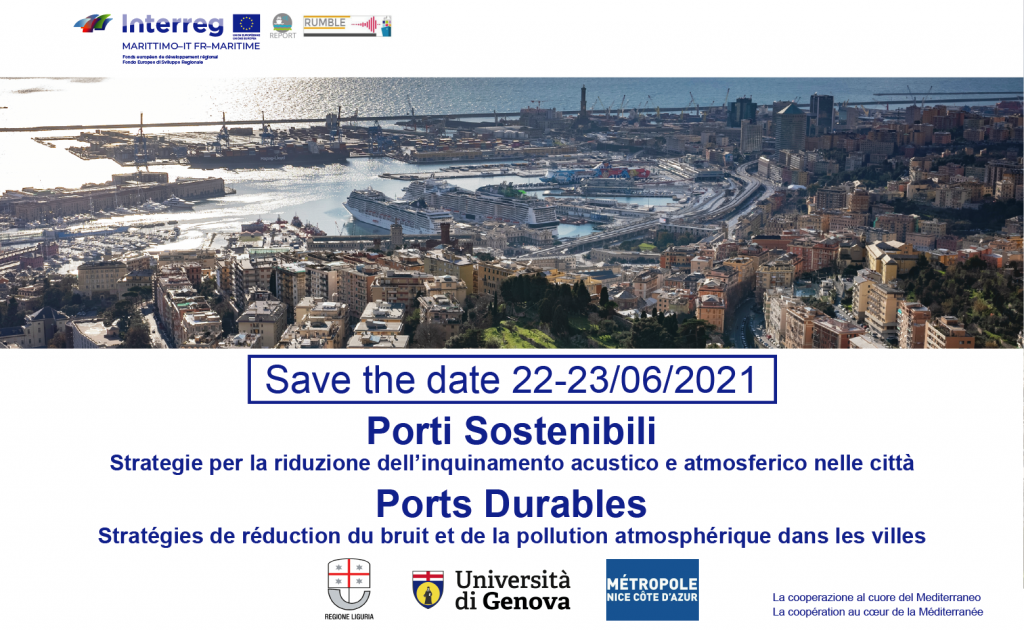 Webinar 22/23 June 2021 – Sustainable Ports – Strategies for reducing noise and air pollution in cities
Anchor Life took part in the two days webinar of the final event of Interreg projects Rumble and Report on sustainable ports, held on the 22nd and 23rd of June.
An international conference organized at the conclusion of the RUMBLE and REPORT projects, thanks to the cooperation of the Liguria Region and the University of Genoa (lead partner) and the Italian-French partnerships. An amazing opportunity to deepen the sustainability strategies implemented in the Mediterranean ports, with the aim of reducing noise pollution and improving air quality, with the participation of speakers from Italy, France, Lebanon and Spain.
On the first day of the conference, Giuseppe Marsico from ISPRA (Italian Institute for Environmental Protection and Research) talked about the Port Noise according to the Italian Legislation and European Regulations. In particular, he deepened some crucial aspects of the END (Environmental Noise Directive) and of the Italian "Framework law on noise pollution" n. 447/1995). Following his intervention, Juan Manuel Paramio Cabrera, a member of Melilla Port Authority, presented ANCHOR LIFE.
A part of the webinar was dedicated to the results achieved thanks to the RUMBLE project with a specific look at the French reality and the concrete action taken on noise in the port of Nice, the speech was held by Metropole Nice Cote d'Azur in collaboration with the Center d'Information et de Documentation sur le Bruit. To know more about the interventions made on the two days webinar, consult the presentations now available here.